Otago & Southland Market Overview Colliers International Rural & Agribusiness
Tuesday 18 Feb 2020
Please click the link to download the report.
WHO TURNED THE VOLUME DOWN?
A noticeable trend has emerged with a reduced number of sales of rural properties over 50 hectares in size. This decrease has been pronounced over the past three years across the wider South Island region including Otago and Southland due to a number of drivers in the rural market. The most public would appear to be reduced liquidity as a result of Reserve Bank requirements for our banks to hold more capital.

While money is available, increased banking covenants are deterring some buyers. Also, increased environmental compliance from recent plan changes and the Government's announcement around the proposed Freshwater policy are requiring farmers to be more diligent around land purchases and what their farm may be able to carry in the future. On a more positive note, strong farm product prices and record low interest rates are a positive sentiment in the rural sector. The forecast of +$7/kgMS payout from Fonterra is also cause for some optimism that will hopefully lead to increased sales activity.

This local market sentiment is being borne out nationally also with latest REINZ rural reports signalling a plateauing median land price per hectare; a lengthening in the days on the market and a corresponding reduction in total sales in recent months.

Notwithstanding the above comments, the sales that have occurred are still at encouraging levels although it would appear the market is starting to differentiate between Tier 1, Tier 2 and Tier 3 farms.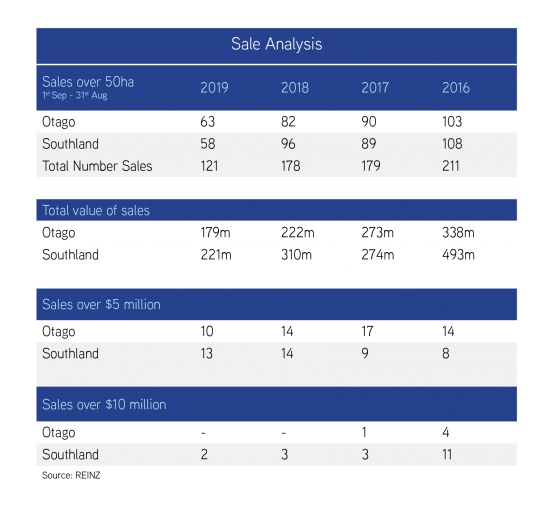 MARKET OBSERVATIONS
Horticulture and Pastoral Trends
Like pastoral farms, horticulture sales (including viticulture) have also seen a dramatic reduction in activity since 2017.



SALES ACTIVITY
Sale volumes regardless of sector, have dropped in both Otago and Southland over the past three years. However we are aware of six dairy farm sales in Southland that confirmed in the last months of 2019 (including a portfolio of three dairy farms) and understand activity is extending
into early 2020 with more properties currently under offer or in the final stages of negotiation. This is higher than the volume of sales in the region during the months of December and January historically. In the horticulture property market we are also noticing an increase in recent activity with a flurry of orchard/bareland sales in the Cromwell basin late 2019, as well as a number of vineyards sold or under contract.
BUYER PROFILE
The buyer profile in Otago and Southland for pastoral farms largely remains local farming entities looking to upscale, add to their portfolios or position themselves for succession although corporate farming groups still have some presence in the market.
It is becoming apparent that with fewer buyers in the market and values having eased overall, purchasers are becoming particularly discerning when it comes to the physical features of a property. Farms, orchards and vineyards alike that are selling and attract interest from the buyers still active in the market tend to be higher quality 'A Class' assets. They feature quality soils, a good location and not require major capital expenditure. The more marginal properties, with limited alternative uses, run down or with detracting features tend to be more difficult to sell and may require a lengthy marketing period.